HangingDoorHardware.com

Your Hanging Door Specialists
Exterior Endfold Offset Door Systems
3 Door Systems from $ 2,700.00
System includes, top track, threshold, hangers,hinges, flush bolts and weather-stripping


Framing must be built to the Specifics in the Instructions
Ths system is desinged to be installed by a Professional Door Hanger


Fully Weatherstripped Folding Door Kits For Exterior Applications



Folding Door Hardware for Exterior Door Applications
Fully Weatherstripped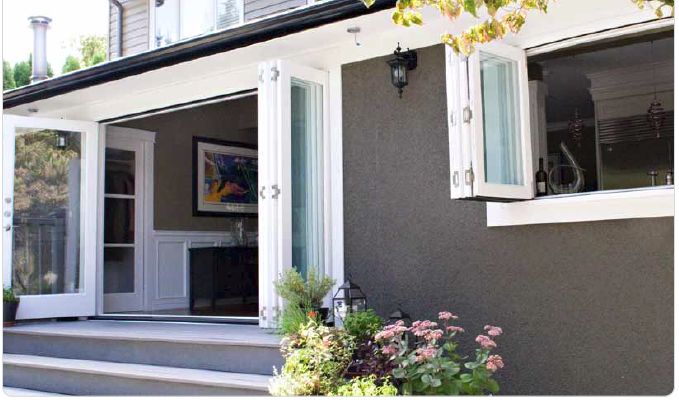 please contact us for more information
your exterior folding door system can be delivered in 3-4 weeks
In order to accurately place your order we would need to know the following
How Many Doors?
In swing or out swing?

Folding Direction
how many Left?
how many Right?

See examples's below

4L 1 R
3L 2 R
It is always best to have an odd Door Count to allow for a free swinging door
Door Size?
max panel width 48"
Door Thickness?
max panel thickness 2.25" if using threshold - 3" when using floor channel
Door Weight?
max. panel weight 250 lbs
Door Height?
max. panel height 144"
Opening Size?
Finish of Hardware and track
Stainless, Bronze, Brass?
Bronze or clear anodized?
Bottom, threshold or channel?


Standard Threshold
Specify
6 5/8" or 8"



Floor Channel
Recessed into floor

ADA Threshold

Weather Strip color
Black, Bronze, White?
E3 System for doors up to
250 lbs

Number of Doors
2
3
4
5
6
7
8
with bottom threshold
$ 3,400
$ 3,800
$ 4,600
$ 5,400
$ 6,400
$ 6,840

$ 7,200

with bottom Channel only
$ 2,600
$ 3,200
$ 4,000
$ 4,800
$ 5,800
$ 6,000
$ 6,200


Above pricing is for doors up to 7'
Doors between 7' and 8' add 15 %
Doors from 8'-12' add 35%


Lead time 3 weeks

Includes Top Track, Bottom Threshold, All Weatherstipping, Flushbolts Hinges and Instructions
On free-swinging application, you will need to supply your own lock hardware

You supply the doors and create the header and Jambs to the layout in the Instructions
Shipping to 48 States is
$ 500.00 per order

New E2 System
For Light Duty Doors


Max Door Width 36"
1 3/4" thick doors Only
Max Door Height 84"
Bronze finish Only
Max Door Weight 125 lbs
Outswing Systems Only
Standard E2 Systems now quick ship - ships in 2-3 Days




Number of Doors
2
3
4
5
6
with bottom threshold
$ 2,500
$ 2,900
$ 4,100
$ 4,700
$ 5,600
with bottom Channel only
$ 1,900
$ 2,300
$ 3,500
$ 4,100
$ 5,000

Includes Top Track, Bottom Threshold, All Weatherstipping, Flushbolts Hinges and Instructions
On free-swinging application, you will need to supply your own lock hardware

You supply the doors and create the header and Jambs to the layout in the E2 Information pages
E2 systems are 1/2" shorter than E3
Offset Application allows for Full Weather Protection

Face Mounted Flush Bolt for folding doors


pin size 3/8"

Made of Aluminum in
Silver, Bronze or Bright Gold Finish
8" long
Straight Flush Bolt
face to center of pin 1/4"


8" long
Offset Flush Bolt
face to center of pin 1.31"



Flush Bolt Router Bit
$149.99



KTE2DBFORB


Flexirol Heavy Duty Folding Doors

| | |
| --- | --- |
| How Many Doors | |
| In-swing or Out-Swing | |
| | |
| Folding Direction | |
| Left | |
| Right | |
| | |
| Door Size | |
| Door Thickness | |
| Door Weight | |
| Door Height | |
| | |
| Finish of Hardware | |
| Stainless, Bronze, Brass | |
| | |
| Floor | |
| Standard Threshold | |
| ADA | |
| Channel Only | |
| | |
| Weather Strip Color | |
E2 135 LBS

ORDER TOLL FREE (888) 915-5223

Woodward's Hardware
2343 N. Tustin Ave, Santa Ana, CA 92705
(714-541-5268 FAX (714)541-2123